Abstract
Herein we present a continuous flow reactor printed from stainless steel by selective laser melting. The reactor was specifically designed for a fast difluoromethylation reaction with nBuLi as base and fluoroform as atom-economic and inexpensive reagent. The reactor features four inlets to allow introduction of substrate, nBuLi, fluoroform, and a final quench solution. The reaction was completed within less than 2 min at −65 °C. The utilization of stainless steel as reactor material is critical to accomplish the heat transfer as well as the chemical and mechanical resistance that is required for this transformation.

Continuous flow synthesis of β-amino acids from α-amino acids via Arndt–Eistert homologation
Abstract
A fully continuous four step process for the preparation of β-amino acids from their corresponding α-amino acids utilizing the Arndt–Eistert homologation approach is described.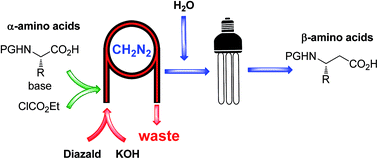 Utilization of fluoroform for difluoro methylation in continuous flow: a concise synthesis of α-difluoro methyl-amino acids
Abstract
Fluoroform (CHF3) can be considered as an ideal reagent for difluoromethylation reactions. However, due to the low reactivity of fluoroform, only very few applications have been reported so far. Herein we report a continuous flow difluoromethylation protocol on sp3 carbons employing fluoroform as a reagent. The protocol is applicable for the direct Cα-difluoromethylation of protected α-amino acids, and enables a highly atom efficient synthesis of the active pharmaceutical ingredient eflornithine.

Continuous flow synthesis of indoles by Pd-catalysed deoxygenation of 2-nitrostilbenes with carbon monoxide
The palladium-catalyzed cyclization of o-vinylnitrobenzenes employing carbon monoxide as terminal reductant is investigated. The reaction proceeds with 1 to 2 mol% of Pd(OAc)2 and generates carbon dioxide as the only stoichiometric side-product.

Safe generation and use of bromine azide under continuous flow conditions – selective 1,2-bromoazidation of olefins
Hazardous bromine azide (BrN3) can be safely generated and reacted with olefins in a continuous flow reactor under irradiation with light.