Matte, crude mixture of molten sulfides formed as an intermediate product of the smelting of sulfide ores of metals, especially copper, nickel, and lead. Instead of being smelted directly to metal, copper ores are usually smelted to matte, preferably containing 40–45 percent copper along with iron and sulfur, which is then treated by converting in a Bessemer-type converter. Air is blown into the molten matte, oxidizing the sulfur to sulfur dioxide and the iron to oxide that combines with a silica flux to form slag, leaving the copper in the metallic state. Smelting of nickel sulfide ores yields a matte in which nickel and copper make up about 15 percent, iron about 50 percent, and sulfur the rest; the iron is removed in a converting furnace, and the sulfides of copper and nickel are separated before being reduced to the metals. Smelting of lead sulfide ores produces a liquid layer of copper sulfide matte that can be decanted, along with slag and speiss, from the lead bullion.
Sulfide
Sulfide, also spelled sulphide, any of three classes of chemical compounds containing the element sulfur. The three classes of sulfides include inorganic sulfides, organic sulfides (sometimes called thioethers), and phosphine sulfides. Inorganic sulfides are ionic compounds containing the negatively charged sulfide ion, S2−; these compounds may be regarded as salts of the very weak acid hydrogen sulfide. Organic sulfides are compounds in which a sulfur atom is covalently bonded to two organic groups. Phosphine sulfides are formed from the reaction of organic phosphines with sulfur, in which the sulfur atom is linked to the phosphorus by a bond that has both covalent and ionic properties.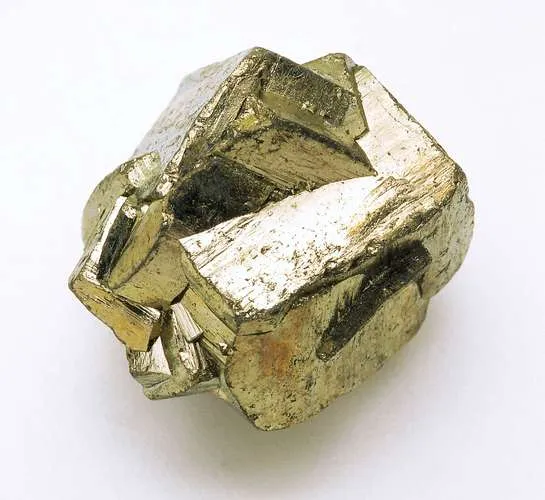 Pyrite.
Sulfides of many important metallic elements are naturally occurring minerals. For example, pyrite, which is also called fool's gold owing to its brassy yellow colour, is a sulfide of iron with the formula FeS2. Pyrite is a major source of iron and is one of the most abundant of the sulfur minerals. Zinc, cadmium, mercury, copper, silver, and many other elements occur in nature as sulfides.
Preparation Of Sulfides
Most metals react directly with sulfur to form metal sulfides—i.e., compounds that contain a metal atom and the sulfide ion, S2−. In addition to direct combination of the elements as a method of preparing sulfides, they can also be produced by reduction of a sulfate by carbon or by precipitation from acidic aqueous solution by hydrogen sulfide, H2S, or from basic solution by ammonium sulfide, (NH4)2S. Another method, particularly suitable for water-soluble sulfides, involves bubbling H2S into a basic solution of the metal to give the metal hydrogen sulfide, MHS. A further equivalent of metal hydroxide added will yield the metal sulfide.NaOH + H2S → NaHS + H2O
NaHS + NaOH → Na2S + H2O
Solubility Of Sulfides
The alkali metals and alkaline-earth metals are the only sulfides that have any appreciable water solubility and that appear to be primarily ionic. In contrast, the sulfides of the copper and zinc families are some of the least-soluble compounds known. When water-soluble metal sulfides are heated in aqueous solution with elemental sulfur, solutions of so-called polysulfides are formed. These solutions consist primarily of S42− and S32− anions. Sulfides are an important component of high-density power sources such as lithium and sodium sulfide batteries. The sulfides that have been utilized in these power sources are M2S, M2S2, M2S4, and M2S5.
Structure Of Sulfides
Semimetals (metalloids) and some nonmetallic elements form sulfides that are molecular or that have sulfide bridges in a polymeric structure. For example, silicon disulfide, SiS2, has a structure consisting of infinite chains of SiS4 tetrahedrons that share edges. (Each SiS4 tetrahedron consists of a central silicon atom surrounded by and bonded to four sulfur atoms.) Phosphorus forms a series of molecular sulfides that includes P4S3, P4S4 (two distinct forms), P4S5, P4S7, P4S9, and P4S10. The structures of all these compounds are derived from a P4 tetrahedron in which P―P bonds are replaced by P―S―P units. All these phosphorus sulfides are stable in carbon disulfide (CS2), and all react with water to produce phosphoric acid (H3PO4) or other phosphorus oxyacids.P4S10 + 16H2O → 4H3PO4 + 10H2SThe tips of strike-anywhere matches contain P4S3, which ignites in air as a result of the friction produced when the match is rubbed against a rough surface. A flame is produced by reaction of the phosphorus sulfide with active chemicals in the match head. P4S10 is used in the preparation of industrial lubricant additives.